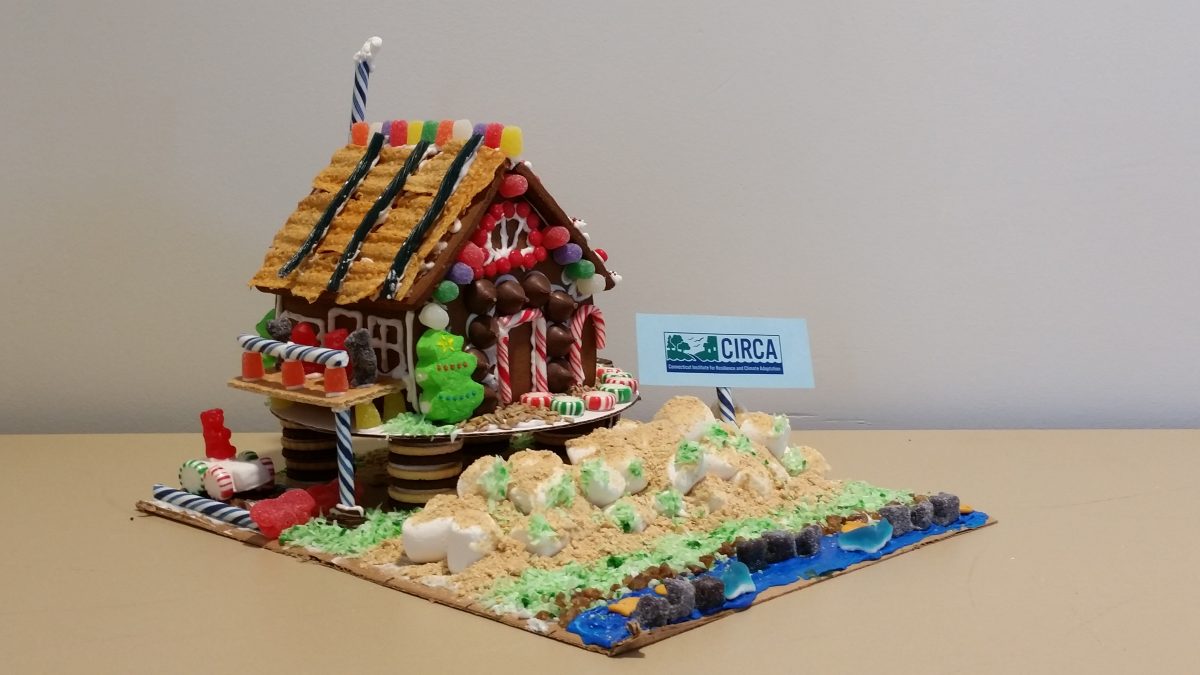 Every year UConn Avery Point hosts a competition to make a gingerbread house. This year CIRCA entered and built a resilient coastal home or as resilient as it could be when it was made out of candy and cookies.
How to make a resilient gingerbread house:
Home Elevation
The lowest occupied floor of our gingerbread house is elevated to the levels recommended in the ASCE 24-14 guidelines plus an additional 2 feet of freeboard to account for sea level rise. CIRCA sea level rise projections recommend that communities plan for 20 inches of sea level rise by the year 2050. Our cookies may have crumbled by then, but we are prepared just in case.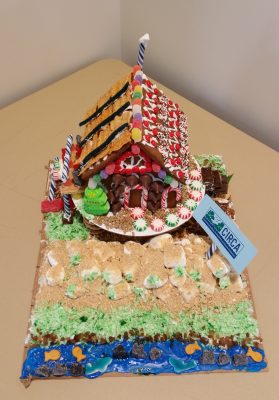 Living Shoreline
Our house has a constructed living shoreline on its shorefront to prevent erosion and create and enhance the natural habitat. The living shoreline incorporates multiple components.
1) The house is in a high wave energy area therefore reef balls were placed just offshore to create a living breakwater. The reef balls are spaced so that the land-water interface is not disrupted, allowing for flooding of the marsh and room for critters to move around (see the sharks and fish).
2) A marsh was constructed landward of the reef balls with a small biodegradable sill at the toe to protect the marsh while it's growing. Marshes further break up waves and can act as a flood storage area during storms.
3) Finally a dune was restored behind the marsh with new dune grass plantings. The plants stabilize the dune from coastal erosion. The dune can also act as a barrier to storm surge and waves.
Renewable Energy
Resilience is about being prepared for the near-term impacts of climate change like sea level rise already happening today, but we also need to help reduce carbon emissions from our energy use to stop the long-term impacts on future generations. This house has solar panels (usually made of out of photovoltaics, but we used SunChips and licorice) on its roof that provide clean and renewable energy back to the grid.
From all of us at CIRCA, we hope that you have a safe and happy holiday season.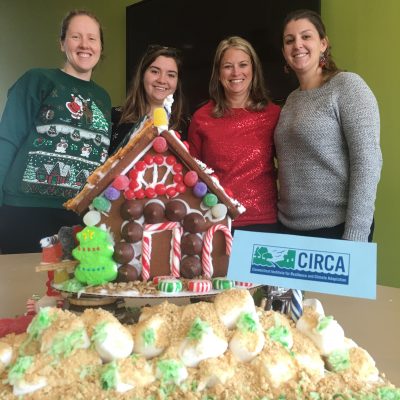 ---