CIRCA is pleased to announce the results of the past round of grants under its Municipal Resilience Grant Program. The municipalities and councils of governments listed below have been awarded funds to pursue projects that will not only increase their own local resilience, but also serve as transferable tools for other communities hoping to replicate their success.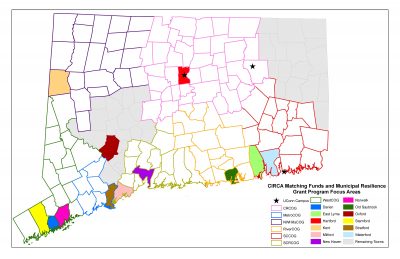 Map of CIRCA Matching Funds and Municipal Resilience Grant Program Project Areas
Several important criteria were considered by the CIRCA Executive Steering Committee when making awards, including the following:
Does the project enhance community resilience to the impacts of climate change and extreme weather?
Does the project have transferable results?
Does the project involve collaboration with CIRCA?
Does the project have measurable goals?
Will the project be completed in an 18-month timescale?
Does the project have multiple funding sources?
Does the project emphasize implementation?
Based on the above criteria, funding was awarded to the following projects under four different rounds of funding.  Click on the green links to learn more.
Darien - Low Impact Development for Resilience Against Flooding, Storm Water, and Climate Change 
East Lyme - Coastal Resilience, Climate Adaptation, and Sustainability Project
Fenwick - Hepburn Dune and Marsh Preservation Project
Hartford - Green Infrastructure Specialist for a More Resilient and Sustainable Future
MetroCOG - Beardsley Zoo Green Infrastructure Project
MetroCOG – Designing Resilience: Living Shorelines for Bridgeport

Milford – Developing and Implementing a Restoration and Management Plan to Combat Threats and Challenges to Coastal Dune Resiliency in Urban Landscapes
New Haven - Assessing Impacts of Tides and Precipitation on Downtown Storm Sewer System Through Use of Real-Time Depth and Flow Monitoring
New Haven – New Haven Industrial Toolbox
NHCOG– Building Municipal Resilience and Climate Adaptation through Low Impact Development
NHCOG - Enhancing Rural Resiliency: A Vision and Toolkit for Adaptation in the Northwest Hills
Oxford - Planning for Flood Resilient and Fish-Friendly Road-Stream Crossings in the Southern Naugatuck Valley
SCCOG - Southeastern Connecticut Critical Facilities Assessment
SCRCOG - Climate Adaptation and Resiliency Planning for Protection of Public Drinking Water
SCRCOG - Design and Technical Guide for Implementing Innovative Municipal Scale Coastal Resilience in Southern Connecticut
Stamford - Resilience Opportunity Assessment
Waterford – Waterford Municipal Infrastructure Resilience Project
WestCOG – Regional CRS Program