About CIRCA
The mission of the Connecticut Institute for Resilience and Climate Adaptation (CIRCA) is to increase the resilience and sustainability of vulnerable communities along Connecticut's coast and inland waterways to the growing impacts of climate change on the natural, built, and human environment. Read More...
Featured Projects & Products
Sea Level Rise Projections for Connecticut
As of October 2018, CIRCA released the full Final Report, Sea Level Rise in Connecticut, that informed the local sea level rise projections and planning recommendations released as a draft on October 19, 2017. 
Sea level rise is a well-established impact of a warming planet due to expanding warming oceans and melting ice currently trapped on land. In 2012 NOAA released global sea level rise scenarios that were referenced in Connecticut state statute requiring that sea level rise be considered in state and local plans of conservation and development and natural hazard mitigation plans. That same statute charged UConn CIRCA with updating the scenarios to be local for the state of Connecticut. On October 19, 2017 CIRCA released the local sea level rise scenarios in a public meeting. Based on the scenarios CIRCA recommends that Connecticut plan for the upper end of the range of values projected of sea level rise or up to 20 inches (50cm) of sea level rise higher than the national tidal datum in Long Island Sound by 2050 and that it is likely that sea level will continue to rise after that date. The Institute also recommended that the scenarios be updated at least every 10 years to incorporate the best available science and new observations. The public meeting also included a presentation on policy and planning recommendations on how to incorporate sea level rise into state and municipal planning ordinances and floodplain management.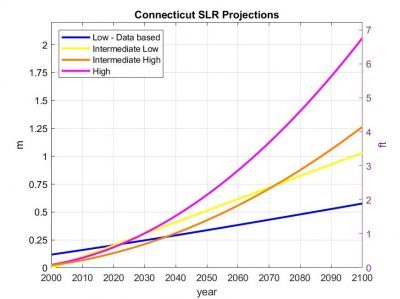 Sea level rise projections for Connecticut based on local tide gage observations (blue), the IPCC (2013) RPC 4.5 model simulations near Long Island Sound (yellow line), the semi-empirical models (orange line) and ice budgets (magenta line) as in CPO-1.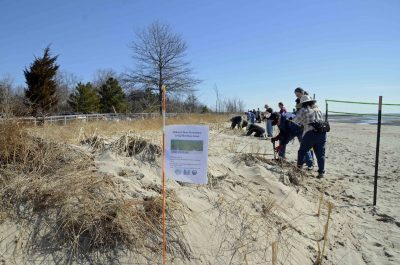 CIRCA Grant Programs
Municipal Resilience Grant Program
Learn more about the 18 projects awarded to Connecticut's municipalities and regional council of governments to move our state from planning to implementation of climate adaptation strategies.
Learn more about the 9 matching funds grants awarded to Connecticut organizations, municipalities and researchers to leverage external funding programs to advance resilience in the state.
Learn more about all of CIRCA's Research projects and products.
Resilience Roundup and CIRCA Announcements
Sign Up for the Resilience Roundup e-newsletter and CIRCA Announcements



The Resilience Roundup is a biweekly e-newsletter including local, state, and national news clips on resilience and adaptation as well as resources , events, and funding announcements. The CIRCA Announcements list will send you notices of the latest CIRCA research, tools, grants, and engagement opportunities.