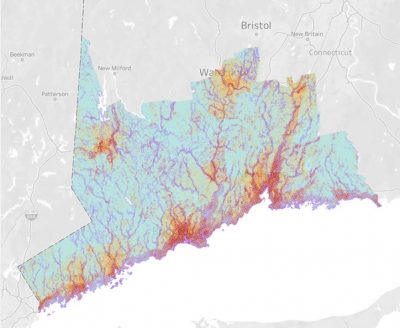 Following up on recent winter workshops, join the Resilient Connecticut team for our spring workshop series to be held with four Councils of Governments (COGs) in New Haven and Fairfield Counties. These May events will focus on the regional vulnerability results that emerged from our outreach, research, and technical analysis. Each workshop will present highly vulnerable areas and potential resilience opportunity areas in the four COGs. The workshops will also include small group collaborative exercises to explore select resilience opportunity areas.
Your local knowledge and expertise are important as we wrap up this phase of the Resilient Connecticut project. We encourage you to learn more by reading the project Story Map and use the "Provide Input" tab to help shape resilient communities in your region. Please register for workshop(s) in advance:
South Central Regional COG (SCRCOG) | May 24, 1:00 – 3:00
Metropolitan COG (MetroCOG)| May 25, 1:00 – 3:00
Western Connecticut COG (WestCOG) | May 26, 1:00 – 3:00 
Naugatuck Valley COG (NVCOG) | May 27, 1:00 – 3:00
After registering, you will receive a confirmation email on how to join the meeting. Participants will also receive information beforehand to prepare for this collaborative workshop.
For language assistance or other accommodations, contact CIRCA at circa@uconn.edu.
---