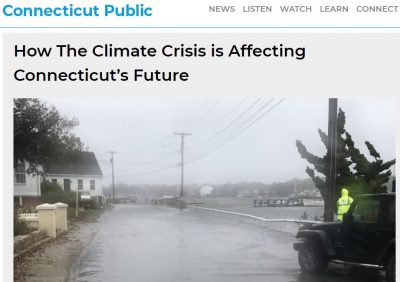 After years of warning from scientists, the global climate crisis is impacting Americans across the country. This year, we've already seen unprecedented ice storms across Texas and one of the worst droughts in modern history in the west. But what kind of changes can we expect in Connecticut? Dr. Khalilah L. Brown-Dean from NPR's Disrupted, featured CIRCA's Executive Director Jim O'Donnell along with two other speakers who discussed the ways the changing climate is affecting our state.
Dr. Brown-Dean asks Professor O'Donnell about the consequences of sea level rise and how coastal towns can adapt to these changes. He explains how the frequency of flooding is expected to increase along with consequences for coastal communities. The history of Connecticut's settlement and supporting infrastructure along the coast having made communities more vulnerable to flooding.
CIRCA's Resilient Connecticut project is taking a broad view of the benefits of risk reduction. Dr. O'Donnell explains that the project is trying to "figure out how to do urgent projects that protect critical infrastructure but also provide additional values." These include protecting housing, raising roads, or protecting regional assets like wastewater treatment plants, water supplies, or energy facilities that serve multiple communities. Resilient Connecticut seeks to, "make the money we spend in flood risk reduction have broader and more equitable outcomes."
This story aired on Connecticut NPR June 16, 2021. Disrupted is a weekly radio program with new episodes broadcast each Wednesday at 2 pm.
---