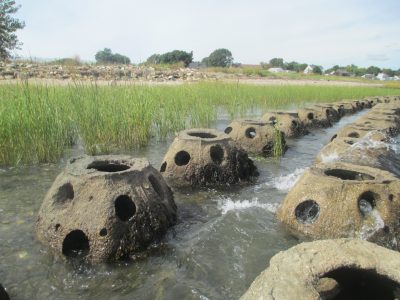 Stratford Point, CT. Photo Credit: Jennifer Mattei
May 9, 2022 News Story:
by Eduardo Cuevas
Rockland/Westchester Journal News
In the shadows of Playland Park, a stretch of shoreline has already receded, another product of climate change.
Westchester County officials estimate up to 40 feet has been lost in the last decade with repeated storms battering the Long Island Sound shoreline, located in the Edith G. Read Wildlife Sanctuary in Rye.
"It's accelerating, too," said Robert Doscher, the principal environmental planner for Westchester, as he stood above a crumbling embankment on a recent cold, gusty Thursday. "That's the downside."
Scientists say such effects seen along the Long Island Sound are due to climate change. There are more frequent and severe storms, increased coastal flooding, and sea levels are rising.
Read here for the full story, including an interview with CIRCA's Exec. Director Jim O'Donnell.
Learn about special challenges the Northeast is facing and how reef balls work.  Also see more on this topic from a CIRCA funded research project being conducted by Sacred Heart University: CIRCA Awards Matching Funds Grant to Purchase Reef Balls to Build Connecticut's Largest Living Shoreline
---