Project Summary
The Housatonic Valley Association (HVA) has led collaborative efforts to restore and protect the landscapes of the Housatonic watershed since the organization was founded in 1941. We have been working to identify barriers to fish and wildlife movement at road-stream crossings since 2010 using protocols developed by the North Atlantic Aquatic Connectivity Collaborative (NAACC). Since then, their staff have assessed over 2,500 structures in the Housatonic watershed, and HVA has emerged as a leader in road-stream crossing assessment and replacement planning in our service area and beyond.
Their approach focuses on bridging the gap between road-stream crossing assessment and implementation of priority replacement projects, primarily through the development of town-scale Road-Stream Crossing Management Plans (RSCMPs). The RSCMP process offers the opportunity to work closely with local highway managers and decision-makers to identify high priority projects based on conservation value, flood risk reduction potential and maintenance need, and then use those projects to demonstrate Best Management Practices that restore habitat connectivity while reducing flood risk and maintenance costs. The completed RSCMPs are a tool that communities can use to take advantage of every opportunity to secure financing for priority replacement projects, including capital planning, grant-seeking, and recovery operations in the wake of large floods.
CIRCA's MRGP grant in the amount of $35,640 will help complete detailed field surveys, design development and permitting, to bring projects to "Shovel-Ready" status.
Product
Available May, 2023
Project Description
By the end of this year, HVA will have completed Road-Stream Crossing Management Plans for 14 towns in Connecticut, and 22 towns across the Housatonic watershed. The RSCMPs use information about flood risk, maintenance need and conservation value (particularly restoration of stream continuity for native fish such as Eastern Brook Trout, River Herring and American Eel) to collaboratively prioritize culvert replacement projects and recommend culvert design Best Management Practices that reduce flood risk and maintenance costs while restoring habitat connectivity. The Municipalities that are the focus of this proposal (Watertown, Naugatuck and Beacon Falls) are in the midst of the RSCMP process with assessment work and flood-risk modelling completed workshops begun.  Bringing these projects to "Shovel-Ready" status will tee them up for implementation funding from a variety of different state and federal sources.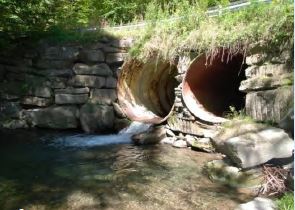 Topic Areas
This project is a part of the following topical areas: