Overview of Projects
The attached list of projects includes all Green Infrastructure and Living Shorelines Projects  UCONN CIRCA has participated in or funded.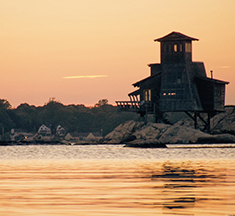 Advancing High Resolution Coastal Forecasting & Living Shorelines Approaches in the Northeast
The Advancing High Resolution Coastal Forecasting and Living Shorelines Approaches in the Northeast advances northeast regional forecasting for inundation from storms under future sea level rise scenarios and identifies policy barriers and potential solutions for the use of living shorelines in the northeast.
---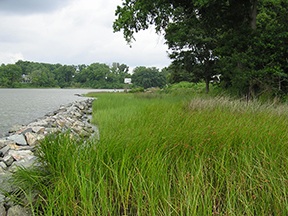 CIRCA/Restore America's Estuaries Living Shorelines Conference: "Living Shorelines: Sound Science, Innovative Approaches, Connected Community"
On December 1 and 2 living shorelines practitioners from around the country met in Hartford, Connecticut for a first-ever national living shorelines summit. The summit was jointly sponsored by Restore America's Estuaries and the Connecticut Institute for Resilience and Climate Adaptation (CIRCA). The event drew nearly 300 researchers, government employees, engineers, students and others, the two-day event covered both the national and regional landscapes. Day 1 had a national focus. Presenters explored groundbreaking science, forward-looking permitting, effective outreach and education strategies, and innovative finance mechanisms. On Day 2 conference participants broke down by region to discuss relevant successes, challenges, and solutions to advance the deployment of living shorelines in their home states.
---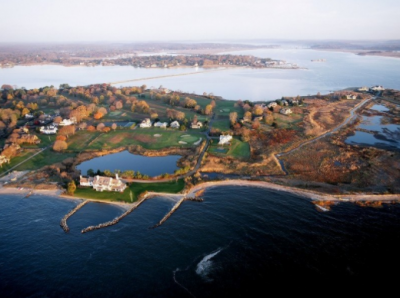 Fenwick – Hepburn Dune and Marsh Preservation Project
The Hepburn Dune and Marsh Preservation Project implements living shoreline strategies at a site on the coast of Long Island Sound, located just east of the Katherine Hepburn Estate in the Old Saybrook Borough of Fenwick. A breach of an existing beach at this site would likely impact: 1) the marsh and creek hydrology, including flood inundation; 2) erosion and sedimentation within the marsh; 3) the ecology (flora and fauna) of the marsh; 4) erosion along sections of the beach; and 5) neighboring infrastructure and property. Left unaddressed, a breach of the existing beach would likely negatively impact the condition and ecology of the restored marsh habitat and, in turn, the federal and state listed species the habitat supports.
The intent of the Borough is to use a Living Shoreline (or hybrid) approach, providing both shoreline protection and environmental enhancement. The project involves analysis of several shoreline protection alternatives and design of the selected alternative. This project builds upon the results of the Old Saybrook Coastal Resilience Study, performed by GZA for the Town of Old Saybrook under a Community Development Block Grant-Disaster Recovery Fund.
---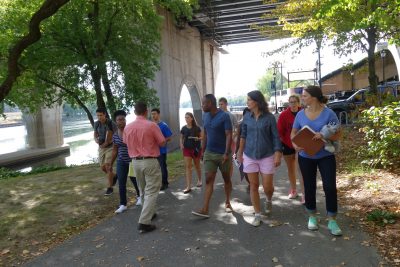 Hartford – Green Infrastructure Specialist for a More Resilient and Sustainable Future
The City of Hartford received grant assistance from CIRCA to hire a Green Infrastructure Specialist for 12 months. Hartford seeks this assistance in the context of its rigorous, comprehensive climate resiliency effort – the Climate Stewardship Initiative (CSI) – which aims to improve quality of life through environmental stewardship, while advancing the economy, improving public health, and promoting social equity. Through the CSI, Hartford has collaborated with corporations, private foundations, and government agencies to make strides in five action areas (energy, land, transportation, waste, and water). Of these five areas, the city has the least expertise and the most need in the area of water – specifically in managing stormwater. The Green Infrastructure Specialist will help Hartford not only respond to threats of flooding, but also strategize proactively for the future by evaluating and advancing green infrastructure projects.
---
How Will Sea Level Rise-Driven Shifts in Wetland Vegetation Alter Ecosystem Services?
This project examines how sea level rise (SLR) - induced shifts in vegetation will mediate ecosystem service provision by LIS coastal wetlands.
---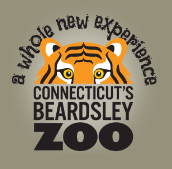 MetroCOG – Beardsley Zoo Green Infrastructure Project
The Connecticut Metropolitan Council of Governments (MetroCOG), received an award for a "Beardsley Zoo Green Infrastructure Project", which is a highly visible green infrastructure retrofit project at the zoo located along the Pequonnock River in Bridgeport. This collaborative project between MetroCOG, the Beardsley Zoo, the Connecticut Fund for the Environment and its bi-state program Save the Sound will build on regional resilience planning efforts and the successful completion of a green infrastructure demonstration project at the Zoo in spring 2016. Through the installation of 2,000 square feet of porous pavement and up to 2,000 square feet of bioretention gardens, over 1,000,000 gallons of stormwater runoff will be captured and filtered annually from an acre of existing parking area. Interpretive signage, targeted outreach, volunteer engagement opportunities, and workshops will help to educate the 275,000 people who visit the Zoo each year about stormwater runoff and flood resiliency. Workshops conducted by a partnership of CFE/Save the Sound, the Beardsley Zoo, and the Northeast Organic Farmers Association of Connecticut (CT NOFA) will also reach target audiences of underserved, urban youth and adults to promote an understanding of stormwater infrastructure issues in Long Island Sound, increase environmental awareness, and enhance green job skills. CIRCA's funding for this project is supporting installation and outreach efforts including signage and workshops.
---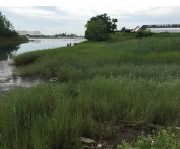 MetroCOG – Designing Resilience: Living Shorelines for Bridgeport
The Connecticut Metropolitan Council of Governments (MetroCOG), in partnership with the City of Bridgeport and The Nature Conservancy (TNC) will develop preliminary, semi-final and final design plans for a living shoreline project at Bridgeport's West Johnson Creek. This project will advance design concepts from the existing National Fish and Wildlife Foundation-Department of Interior (NWF/DOI) funded Regional Framework for Coastal Resilience in Southern Connecticut, which supported the development of conceptual designs for coastal resiliency/living shoreline projects identified as "high priority" by local stakeholders. Construction-ready plans funded through this round of CIRCA's Municipal Resilience Grant Program will position the Bridgeport project for future implementation.
Johnson's Creek is located in Bridgeport's East End, a distressed area that has suffered from disinvestment and past environmental degradation. Due to the area's relatively low elevation, it is continually vulnerable to flooding. The NWF funded conceptual design will reduce the slope to allow vegetative stabilization and support potential wetland migration. Other ecological benefits include the removal of debris and invasive species and the creation of habitat for marsh species. The design is also consistent with CIRCA's "Enhancing Coastal Resiliency in Connecticut" site suitability model. Ultimately, the goal for Johnson's Creek is to create a passive recreational trail along the water for public use and restoration.
---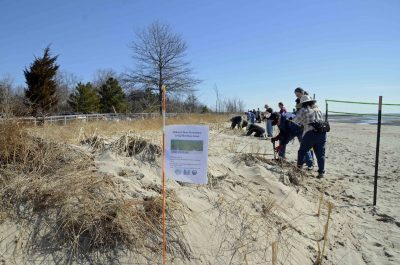 Milford – Developing and Implementing a Restoration and Management Plan to Combat Threats and Challenges to Coastal Dune Resiliency in Urban Landscapes
This project will implement a plan of best practices to restore a degraded sand dune along the Milford, CT shoreline in a high traffic, urban beach community and develop a plan for post-restoration management of the restored dune.
---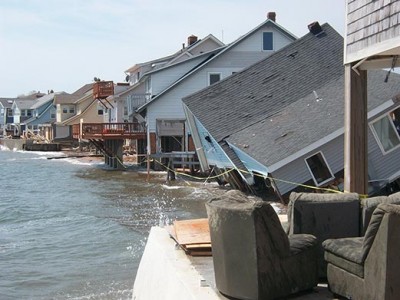 Municipal Resilience Planning Assistance for Sea Level Rise, Coastal Flooding, Wastewater Treatment Infrastructure, & Policy
The Municipal Resilience Planning Assistance for Sea Level Rise, Coastal Flooding, Wastewater Treatment Infrastructure, and Policy project provides information for wastewater system vulnerability assessments, combined river and coastal flooding for pilot sites, and policy options for priority resilience projects for towns in the Sandy-impacted counties.
---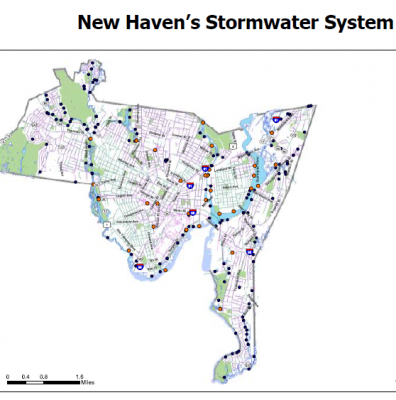 New Haven – Assessing Impacts of Tides and Precipitation on Downtown Storm Sewer System
The City of New Haven was awarded its second CIRCA Municipal Resilience Grant for a project entitled, "Assessing Impacts of Tides and Precipitation on Downtown Storm Sewer System Through Use of Real-Time Depth and Flow Monitoring." The city experiences frequent flooding at several locations crucial to the functioning of the City and regional transportation systems during high intensity, short duration rainfall events. The flooding is exacerbated during high tide events such that a small storm (less than a one year occurrence) can lead to flooding of critical facilities. Significant gaps and inconsistencies still exist in the understanding of this large and complex drainage area. Until now, the City's strategy lacked a long-term data gathering component to provide data on the performance of the City's stormwater infrastructure in widely varying conditions. This CIRCA funded project will create a low-cost "smart city" stormwater sensor network to provide a detailed record of the interaction of rainfall, tides, green stormwater infrastructure, and sewer conveyance systems on the hydrology of New Haven's urban core. A better understanding of system response during a range of hydrologic conditions will allow the City to value engineer cost-effective and resilient solutions. Techniques and approaches developed in New Haven also be transferred to other urban communities facing similar problems.
---
NHCOG – Building Municipal Resilience and Climate Adaptation through Low Impact Development
With flooding, erosion, and sedimentation becoming an increasing concern for Northwest Connecticut towns, the Northwest Conservation District supported by Northwest Hills Council of Governments staff, coordinated the creation of a Low Impact Sustainable Development (LISD) Design Manual.  The manual, designed for the town of Morris Planning & Zoning Commission and drafted by Trinkaus Engineering, LLC, describes the need for the LID approach, engineering specifications for successful systems, and sample enforcement tools.
---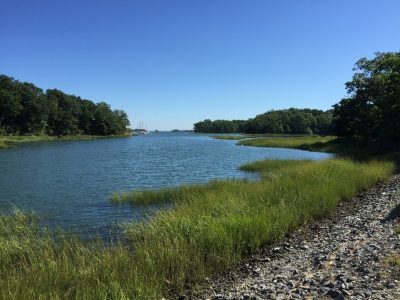 Norwalk Land Trust – The Village Creek Saltmarsh Restoration Demonstration
The Norwalk Land Trust, in conjunction with the Village Creek Harbor Corporation, engaged the services of the environmental engineering firm Fuss & O'Neill to study the feasibility of restoring the saltmarsh in the Village Creek Estuary in Norwalk, CT.   The broad objective was to determine the feasibility of restoring the degraded saltmarshes with dredged materials from the established Village Creek small-boat harbor situated within the estuary.
---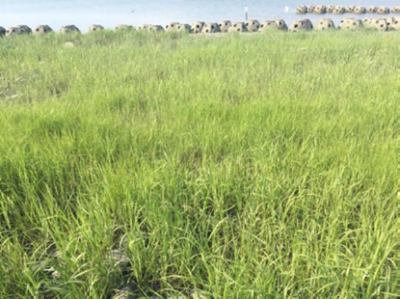 Restored vs. Natural Living Shorelines: Comparison of Ecosystem Services, Erosion Control, and Habitat Use
This project questions- "Do living shorelines provide similar ecosystem services to naturally established estuarine habitats in Connecticut?" A recently established living shoreline in Stratford, CT provides a unique opportunity to compare the ecosystem services of two newly planted saltmarshes to nearby established marshes in the same estuary of the Housatonic River.
---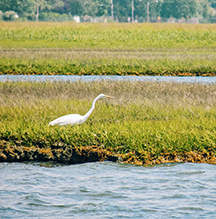 Scoping of Dredge Material Islands & Wetlands for Green Infrastructure Resiliency
The Scoping of Dredge Material Islands and Wetlands for Green Infrastructure Resiliency Projects Along the Connecticut Shoreline in Fairfield and New Haven Counties project will provide design guidelines and a regulatory framework for creating wetlands from dredge materials in Connecticut to increase shoreline resiliency.
---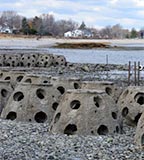 Stratford Point Living Shoreline: Restoring Coastal Habitats to Maintain Resiliency and Function
Led by researchers at Sacred Heart University, this project expands an existing living shoreline project at Stratford Point, Fairfield County, Connecticut. On-going coastal restoration efforts and research at the site consist of an artificial reef, smooth cordgrass (Spartina alterniflora) marsh, high marsh, coastal dune and upland woody/grassland mosaics.
---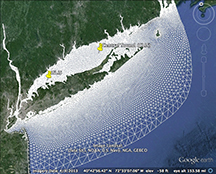 Waves in Long Island Sound and Living Shorelines Site Suitability Tool: NOAA CREST Project
The NOAA CREST project has significant wave heights for different return periods for all of Long Island Sound, measurements of waves in Old Saybrook and New Haven harbors, a review of design guidelines and tools for site assessment of living shorelines. This information is summarized in an online map viewer.
---